PERFORMING AT THE VERY HIGHEST LEVEL
For boat enthusiasts, choosing between one yacht maintenance option that provides better protection, and another that improves the yacht's appearance would be a tough decision to make. Fortunately, nano-coating allows you to opt for both. Not only is the surface protected, but the fresh coating yields a shiny, sleek exterior that retains its gloss over a much longer period of time.
Don't be surprised if your yacht suddenly gets a lot of interest. Some of our customers sometimes send photos of groups of people who marvel at their boat.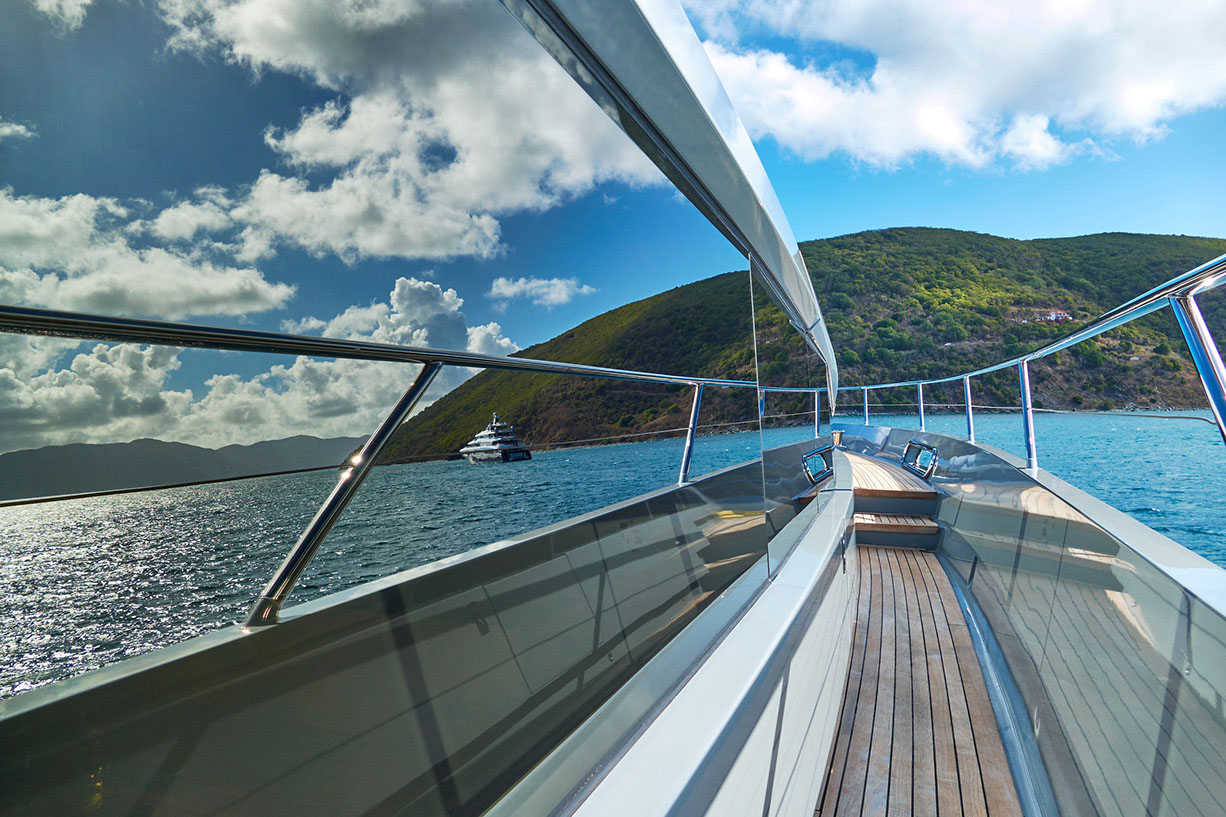 OBTAIN MAXIMUM GLOSS IMMEDIATELY
Let's face it. We all have dreamed of owning a yacht that makes the jaws of the onlookers' drop to the ground like a Al Mirqab, The Dilbar or The Serene Yacht or something. Our protections create an ultra resistant, hydrophobic layer with a flawless mirror finish. Keep the shine for seasons ahead with a higher gloss finish than a fresh repaint. Leave it to the experts of ServiceCoating.com® and make the onlookers' drop to the ground.
FASTER AND LESS EXPENSIVE THAN REPAINTING
A yacht is the ultimate personal preference. So is the ceramic coating. It is about what you want: SiO2, TiO2, SiC, PPF – there are so many possibilities.
Our concept offers great freedom for clients, who have created stunning award-winning yachts using our ceramic coating.
ServiceCoating.com® has always been delivering on this promise. Yacht after yacht. Because for us coating your dream yacht is as pleasant as owning one.
Whatever you have in mind, we will make it happen.
Contact us at +31 624 170070 to discuss your requirements.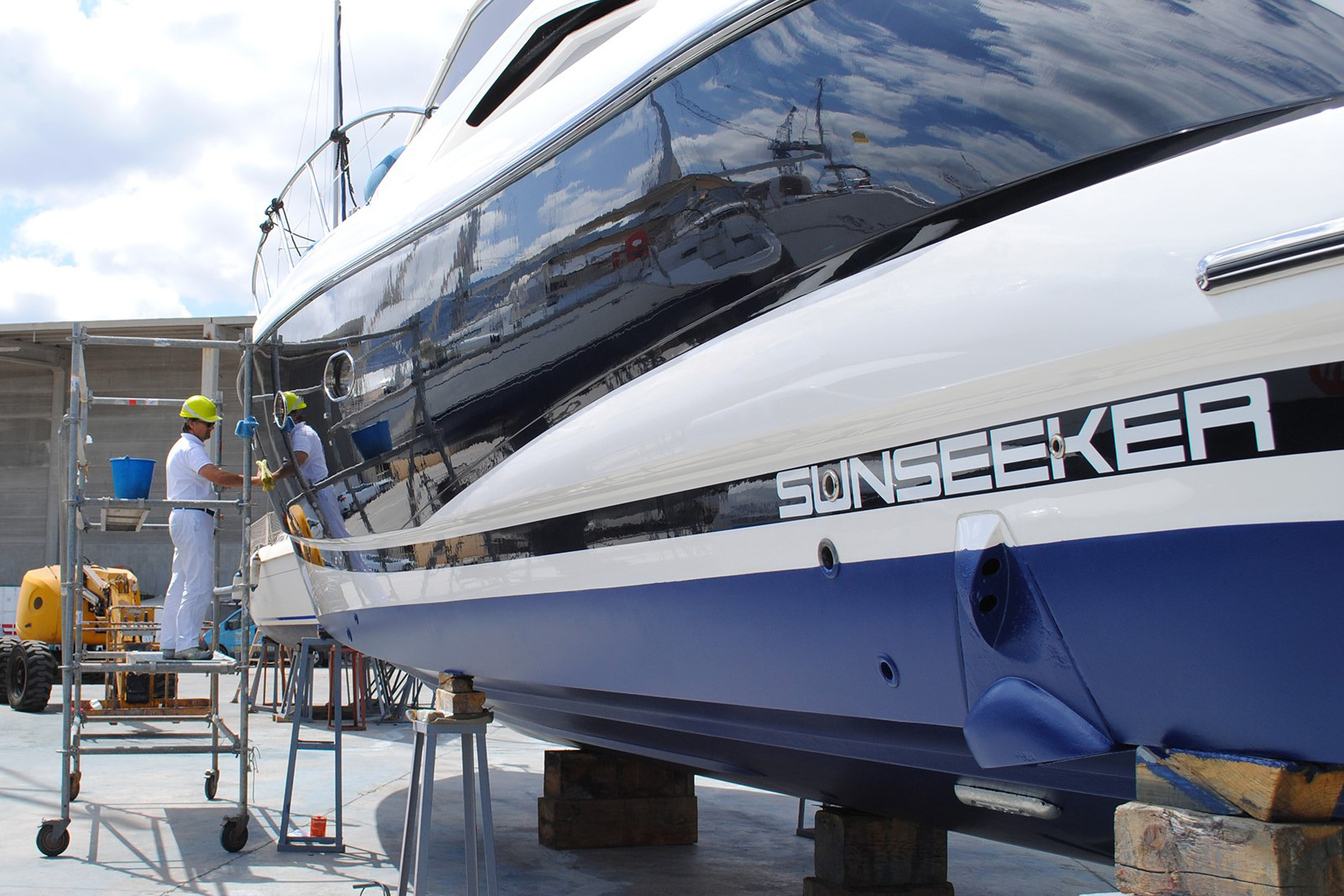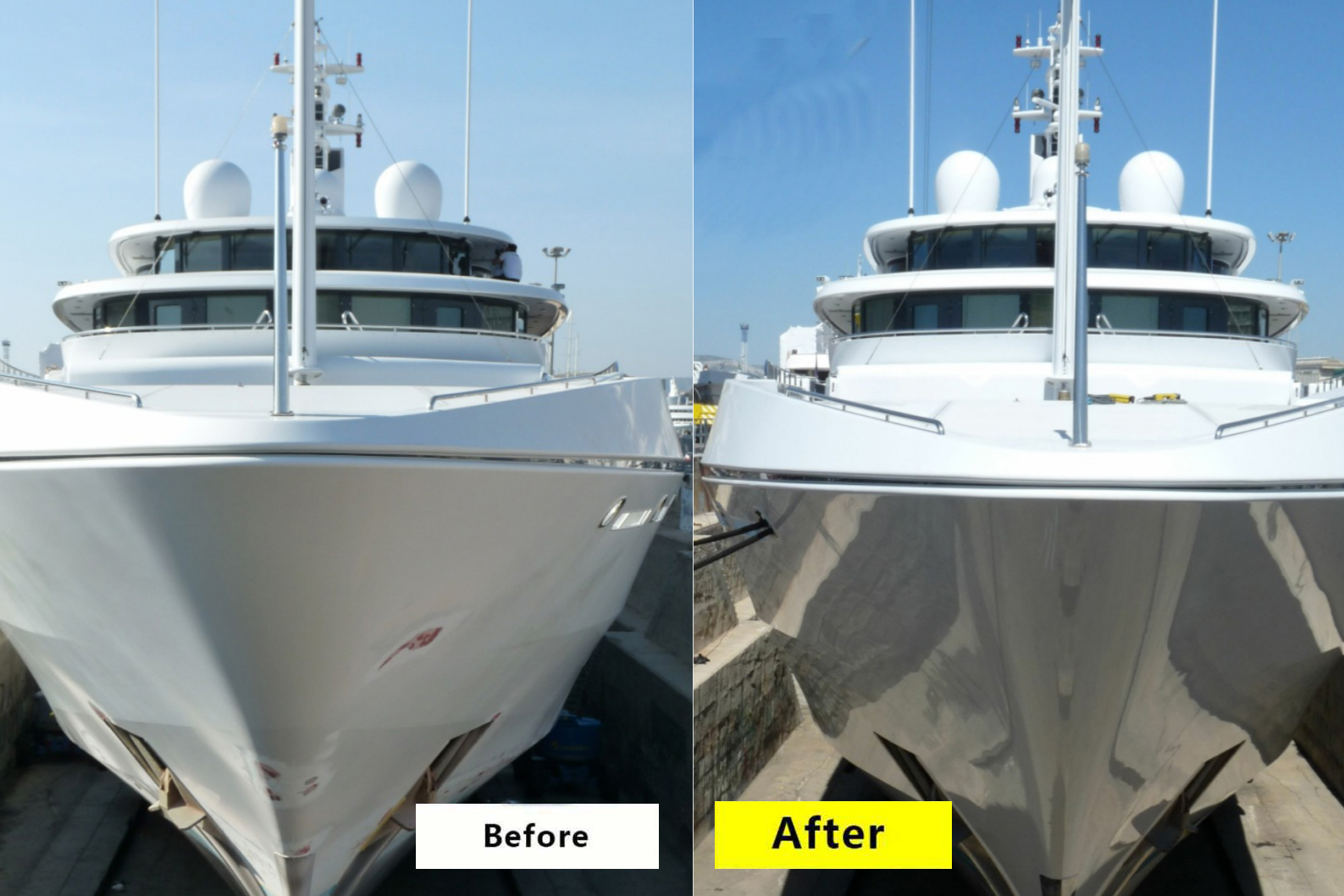 ADDING BEAUTY TO ITS ALREADY BEAUTIFUL EXTERIOR
Dont't you just love that divine sparkle radiating from front to rear, adding beauty to its already beautiful exterior? Your yacht will be the boat that defines Cool.
Wherever your destination is – let ServiceCoating.com® accompany you on your journey. We offer a personal and discreet service including arranging, advising and assisting with any need that is truly exceptional.
It is your responsibility to keep the yacht in top shape. We will make this task easier for captain and crew.
What ServiceCoating.com® will do for you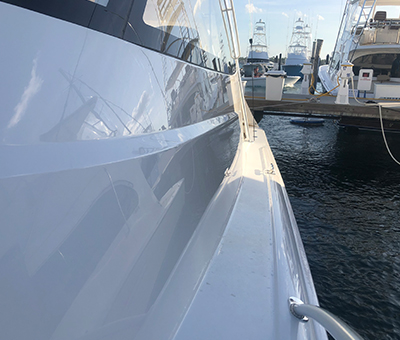 1. Reduce Drag
The most unique function of the Ceramic Coating Marine System is the ability to reduce drag when applied to the hull bottom. Proven in the manufacturer industry, this coating reduces surface tensions, creating higher speeds while using less fuel.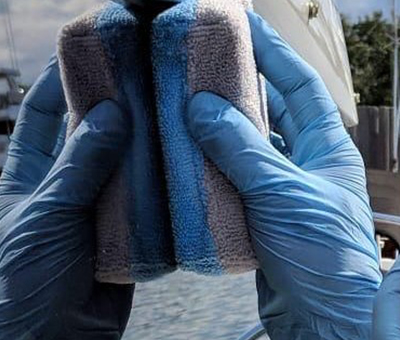 2. Easy to Clean
No harsh or expensive cleaning, or environmentally damaging chemicals are required. Gain a smooth highly-hydrophobic coated surface that results in an easy-clean, reducing maintenance requirements and costs. This creates a consistent anti-stick factor making it easy to clean away fish gunk or other contaminants without hard scrubbing.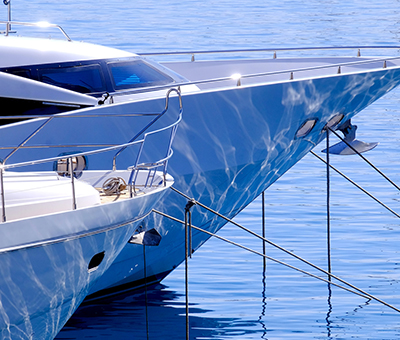 3. Ultimate Gloss & Shine
Faster and less expensive than repainting. Once coated your boat will stand out from all others. The shine and color depth on a Ceramic Coating vessel is something to behold. Keep the shine for seasons ahead with a higher gloss finish than a fresh repaint. The results are truly eye-catching.
4. UV Protection
UV filters preserves and protects the coating from even the harshest salt water damage, diesel exhaust staining and colour fading from sun exposure. The UV protection built inside of Ceramic Coating protects gel-coat, paint, rubbers and plastics against aging and fading colors. Which means your boat will sustain that 'brand new' appeal with minimal future maintenance.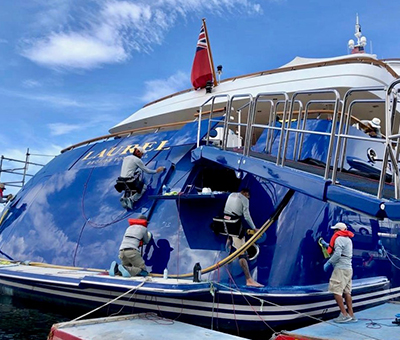 5. Higher Resale Value
Boat & marine craft coated with Ceramic Coating have a higher resale value. Paint, gel coat, and interior surfaces, simply last longer & look nicer. Resulting in a higher resale value, for your hard earned investments.
6. Permanent Protection
Protect your boat & marine craft permanently! Love your boat? We can apply the highest level of Ceramic Coating packages, creating a permanently protected barrier that works for you, for the life of your boat.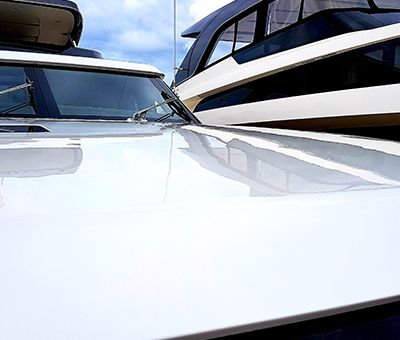 7. Fuel Economy
Reducing drag means more fuel economy. Ceramic Coating will reduce the drag on your hull, which will increase your vessels gas mileage (and even top end speed). Thanks to Ceramic Coating's ultra slick "hydrophobic" surface.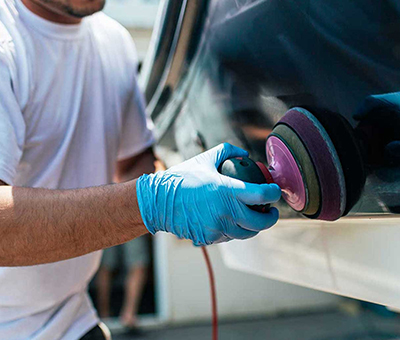 8. Motor, Sail, Fishing Boats
Perfect for Motor yachts, sail yachts, Tenders, Cruisers & Fishing boats alike. Nearly any surface can be covered with Ceramic Coating. Yachts will enjoy a higher top end speed, while Fishing boats will love the easy cleaning.